T&T iN '23 – GTN Launch new independent T&T research
On 22nd June GTN launched its latest research at the Phoenix Arts Club. We wanted to find out the relevance of Traffic and Travel News on Radio in a post-pandemic digital world.
To review the full and abridged summary versions, please click on the links below.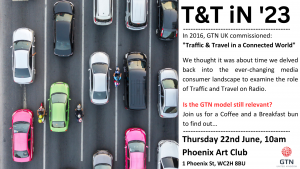 Radio and WAZE synch: VWCV
New brand case study: Motorama
Motorama is a personal car leasing broker. Part of Autorama UK Ltd, the new brand experimented with a national radio advertising strategy, using Network Drive to launch into the market. Clark Chapman ran an online survey amongst car owners/drivers to assess how the strategy worked in comparison to their competitors. With almost 1/3 of all listeners agreeing that they are more likely to consider Motorama when next looking at a new car, the activity speaks for itself. How could GTN help your brand? Get in touch today to find out more.
Is Traffic and Travel still relevant in today's connected world?
Clark Chapman are one of the UK's leading media industry research companies and they have just completed a large scale quantitative Traffic and Travel Survey for GTN. The research confirmed that 91% of road users get their traffic information from the radio when in the car and 79% will turn the radio up when traffic and travel comes on. Take a look at the research.
See the Traffic and Travel Survey HERE
Both independent bespoke GTN research and general industry case studies demonstrate the effectiveness of our Network Drive and Entertainment News offerings. Our inventory is not only within a solus environment at peak listening times; it's next to "appointment-to-listen" content both informing and entertaining an engaged audience, therefore offering 48% higher ad recall to an advertising message vs standard airtime. Don't just take our word for it…
Clark Chapman have analysed many of our campaigns over the last ten years. In the following Case Study, we look at one of our most loyal advertisers, within the "Price Comparison website" sector. The document analyses Awareness, Consideration, Recognition and Standard Airtime comparisons to name just a few, for a three week fully national campaign on Network Drive. The results speak for themselves!
Media first: Radio and OOH partnership
In an alternative Clark Chapman study for Lucozade, we at GTN created a media-first through a partnership with Out-of-Home specialists Primesight whereby we synced our T&T bulletins and Lucozade adverts with Primesight's Digital-48 sheets across the UK's big cities, creating an audio visual experience for consumers on their day-to-day commute. The campaign won three prestigious industry awards – Best Interactive Campaign for Primesight at The Drum Awards, Most Effective Agency Case Study for Mediacom at the Arqiva Awards – and of course – National Sales Team of the Year for GTN at the same event. The research results clearly establish the benefits of both radio and OOH advertising – but obviously and most importantly, the real strength in teaming the two medias together at the same time.
Key findings from various sources also back-up the value of utilising GTN's offerings – with our spots offering mass national reach, peak listening times and prime positioning. The document below collates just a few of these studies from the RadioCentre, IPA Touchpoints and Clark Chapman to name just a few.